My golf score improved with this putter. After adjusting my alignment, I feel confident putting. I can concentrate only my stroke. This way, I will be able to improve my score. Now I can't go back to my old putter.
- KAZUO T
RG-1 MALLET CENTER SHAFT
The novel concept behind this putter appears to work. It becomes apparent very quickly that a significant number of my putts in any given round are simply lined up incorrectly. The ability to recognize that before putting is fantastic. Furthermore, the self-standing feature eliminates most of one's concern re hand position & set up - I.e. if you simply take your grip without moving the putter then you know your set up is perfect. Then all you have to really think about is the stroke. To be sure, this means you need to have your practice strokes completed before you set up the club. This has required some meaningful adjustment in routine for me. The weight and the feel of the putter are outstanding. I just wish there was some kind of grip option. I prefer a very large putter grip, and while Bloodline is definitely oversized it is basically unalterable. All in all I like the putter a lot, and will continue to work on my routine.
- AARON C
RG-1 MALLET CENTER SHAFT
Being a PGA Professional, I can only say that everyone that i have shown my Bloodline putter to has been amazed at how easy it is to make putts, or at least burn the edge with the vast majority of putts. The #1 comment I hear is "It's like cheating, it can't be legal".... Loving my Bloodline!
The search is over. I've found the perfect putter. Puts great roll on the ball. As solid feel as any Scotty I've ever used. Ability to align your putt is awesome. I really like the shaft size with the grip. I don't see how it wouldn't improve anyone's putting. Great Putter!

- OWEN H.
RG-1 MALLET LEFTY
I knew what I was getting with balancing putter for alignment but I was positively surprised by the feel. I have a little bit of trouble aligning the longer lines (self admittedly this is a user issue not equipment).

Bloodline is amazing in every way........ This putter takes innovation to a new level, while keeping the looks and feel as sexy as possible. It's soft, rolls true, and now I never have to question my line again. This putter is an absolute game changer! I'm Proud to be a part of the bloodline team!!

Can't tell you how happy I am with your Product! I do't believe how far off i was aligned on some puts when I stepped back to see. Made my first eagle Wed. with my Bloodline , about a 25' left to right slider. It took me a few rounds to get into my new per shot routine with the new putter but I have it down now, i have found that once I am aligned , I get over the put and just Go, take a look at the hole and Go, the putter has a much softer feel than my old Cameron Kombi, very pleased with it!

Bloodline has transformed me from a poor putter to dare I say a pretty darn good putter. Knowing I've got the putt lined up has made 15 footers feel makeable now and I'm not worried about going 4 feet past. Confident strokes = a lot more made putts. Side bonus - putter stands up on fairway also so your grip stay dry while chipping !

The most important thing to know is that my putting has improved dramatically with the Bloodline. My handicap bounces around from a 9-12 over the last couple of years. Last Friday, had 30 putts with three lip-outs and Saturday I only had 26 putts. Shot 79 both days. It has really made a difference on my alignment, so much so that I rarely need to stand behind the putter after using if for the last couple months. If I feel my alignment is getting out of whack, I take a look before I putt and after a few checks I seem to be fixed again. Of course alignment only works if the other parts of putting are in sync. Your read, distance and stroke. But taking 25% of the equation out of play helps:)

- GARY J.
RG-1 MALLET CENTER SHAFT
Great putter. Made more putts from within 12 feet than I have in a while. Just won the Old Collier Club Championship with it in Naples, FL. Highly recommend!

- MARY P.
RG-1 MALLET CENTER SHAFT
Just used this putter in Dominican Republic golf course and it was grrrrrreat !!! 4 birdies and 8 pars shot 75, back to back birdies 30" feet and 23 " alignment made all the difference !!!!!! Even caddie was shocked at my improved putter I highly recommend . I'm using the RJ -1 blade all I can say is wow !!!!! Don't walk run to get one and you'll be amazed !!!!!!

- DR. HIVAGO
RG-1 MALLET CENTER SHAFT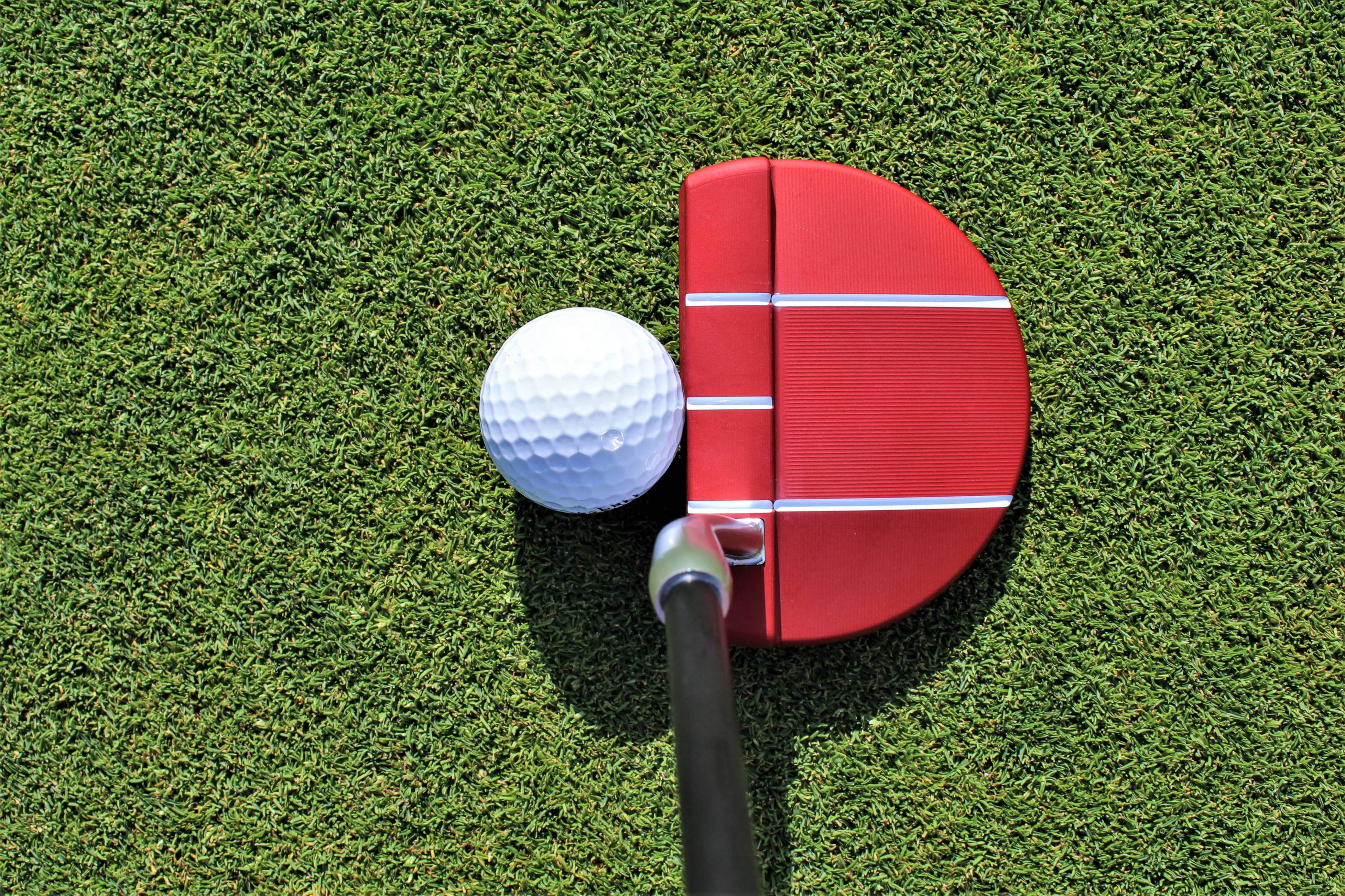 NOT SURE IF I AM AIMED CORRECTLY?
Put in the bag couple weeks ago. First round with I had 5 birdies and a ton of saves. I just line it up, adjust if needed and stroke it down the line. No practice strokes needed, Bloodline putter is that good! I should mention I had to adjust my putter face every time when I walked behind it to check it. For some I think I am aiming down my intended line but set up right of it every time. Slowly correcting it with the Bloodline the more I play and practice with it. Great training aid as well!
This putter has given me new confidence every time I line it up. I know all I need to do is get the proper speed and the ball will drop in the cup. I have made more putts now and the misses have been so close that I know it should have gone in. Thanks Bloodline!
Love the putter for my students. One of the hardest things for most players is to aim the putter face. This makes that very easy. So then players start to be able to set up to the putter finding the best way to see the line correctly.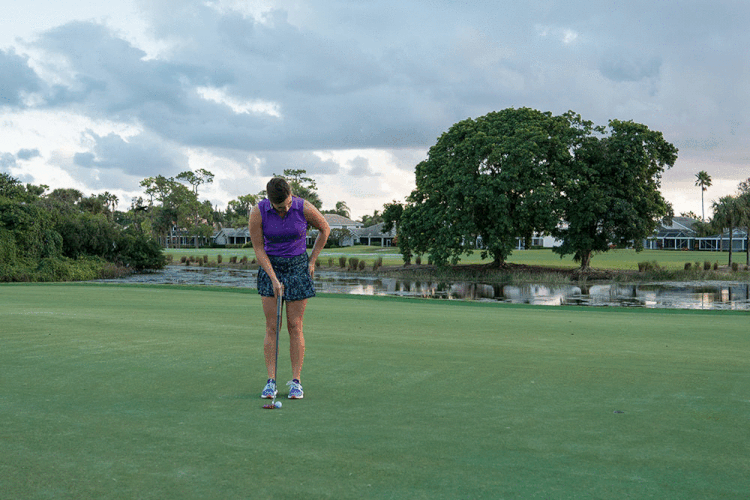 I have been using my bloodline putter for 6 months now. This putter is money inside 6 feet. To be able to stand behind and line it up is awesome. Others players made fun of me t first but not anymore$$$$. Thank you team Bloodline!
Recently purchased the $500 Bloodline after getting the $170 other stand up putter advertised on internet. Very happy with purchase. If I were a rep, I could have sold a bunch of them at recent tournaments. First response everyone has is, "Wow, how does that stand up on its own?" Followed quickly by "is it legal?" The biggest benefit is that it gives you immediate feedback on aiming errors with normal setup. Placing club where you think you are aiming and then seeing actual alignment is eye opening. For Pro players that practice every day and have near perfect alignment, probably feel of favorite putter is more important, but for the rest of us, the alignment benefit is most important. The second benefit is that once you are confident with your putter alignment, you only need to think about speed of putt. Much more focused on one thought than two, I'm in a Member-Guest tourney next week and I plan to use it as intended for any putt outside of 2 feet. I figure it will help me save at least 3 strokes per round and distract competition. Overall, I'm thrilled with my Bloodline, regardless of cost. . . Maybe I shouldn't be so enthusiastic - don't want my competition using one!
Besides being able to take a look from behind I find that function even more helpful even when not taking advantage of that. For example, just standing over the ball it just gets you to set up in the same position time and time again. Hands not too far forward or leaning back. Hands not too high or low. That alone has helped my alignment the most. Not to mention there's also great feel and roll right off the face. Even when you're not using the stand up function it's a great all around putter.