WHY CHOOSE BLOODLINE?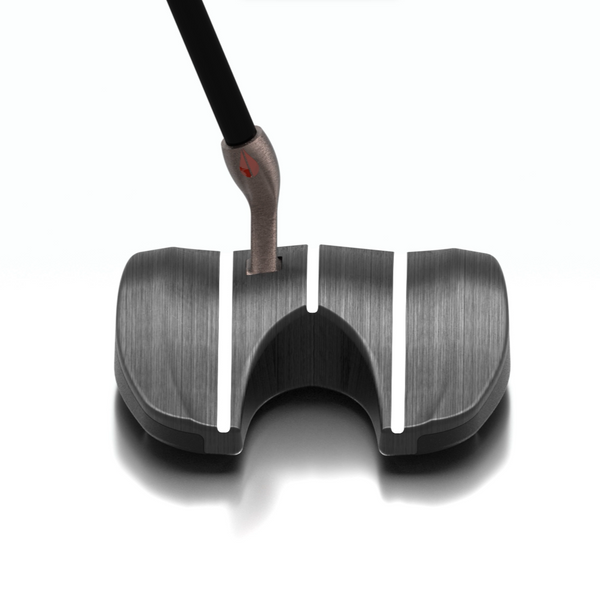 ALIGNMENT IS CRITICAL

Misalignment is the #1 reason for missed putts.  A putt aimed 1° off line from 10' will miss the target by 2".

INCREASE CONFIDENCE

Lack of confidence and/or consistency are things that every golfer will face at some point in time.  

PROBLEM SOLVED

Calibrate your eyes by aligning from behind in practice and/or during competition. Viewing your target line will enable you and teach you to have perfect aim on every putt.  

MAKE MORE PUTTS!

Bloodline's patented technology and premium construction will equip you with everything you need to be the best putter you can be.  Choose the putter that is winning on TOUR instead of others that pretend to have tour-caliber performance.  
ELS ON FEEL AT IMPACT
Ernie fell in love with Bloodline's feel. Here are some quotes from customers describing their favorite thing about VALE:
"Alignment. That it stands up on its own."
"Balance. How the ball comes off the face. Soft feel."
"The head shape and weight. The way it improves my aim."
"Shorter clean up putts. Feel off the putter face (way better than I expected)".
VALE FEEDBACK IS IN!
Here is why the vast majority of our customers recommend VALE to their friends (in their own words):
"Unique golf aid to improve putting. Very comfortable and consistent. Smooth feel."
"Alignment. The putter will give you more confidence. Great putter."
"It's a game-changer. Adds consistency to my game. I already recommended 2 buyers."
"The alignment, feel, and roll off the face. Simplifies putting and produces results."

BLOODLINE FOUNDERS

Brad Adams and Larry Bischmann have been working on prototypes, intellectual property, and performance characteristics for over 3 years.  It shouldn't come as a surprise that they were the ones who were able to successfully combine a tour caliber putter head with a high performance carbon fiber shaft.  They have each been involved with the golf industry for decades and they combine respective experiences with the Odyssey (putter) and Diamana (shaft) brands.

THREE GENERATIONS

The Bloodline brand is rooted in three generations of golf industry excellence and is committed to making a lasting impact on the game of golf. The company's name pays tribute to a golf "bloodline" that includes Vale Adams, an extremely well-respected club professional from Illinois, his son Gary Adams, the founder of TaylorMade Golf, and his grandson Brad Adams, one of the founding members of Odyssey Golf. 
TESTIMONIALS
"I was just amazed on how far off my alignment was until walking back and seeing it for myself.  I mean you still have to make a good stroke and have the right speed but it seems like I have so much more confidence now."
"Got it on Friday.  Saturday I had 15 birdies in 45 holes.  Back to back rounds of 68.  Letting my buddy use it for USGA qualifier tomorrow.  It's awesome.  #bloodlining." 
"I have one of the first mallets sold and couldn't be happier. While the design is innovative, the feel is spectacular. I'm hitting more putts square and hence, seeing more go in the hole." 
"I have been a good putter in the past, but have struggled with my alignment at times.  Yesterday, I put my new Bloodline RG-1 Mallet into play for the first time. I made a total of 105 feet of putts in 18 holes (with no made putt longer than 18 feet) and it seemed EASY. Before each putt, I committed to the my target line while standing behind the putter while it stood behind the ball.  Then, I simply took my stroke and trusted that I was set up on the right line. My playing partners were amazed at how many putts went in!  The 28 total putts I made turned what would have been an 81 or 82 with my previous putter into a very solid 76 (which won me some $$).  I couldn't have done it without your unbelievable technology. Can't wait for the next round.  Thank you! P.S. – I am living proof that a $500 putter will take way more strokes of your score than a $500 driver..."
"I played yesterday for the first time with the Bloodline mallet and I holed everything inside 12 feet.  So easy to line up and lovely feel.           
Loved it!" 
PUTTER DESIGN
AHEAD OF ITS TIME
Ultra-Light Shaft
The same carbon fiber materials and construction techniques used in the most expensive driver shafts in the world. 
Tour Caliber Head
CNC machined, multi-piece head with performance groove face technology
Grip Technology
The grip section provides firm feedback to the hands and is light still enough for the putter to stand alone.
Ultra-Low Balance Point
Patent protected balance point is around 2" from the base of the head and is key contributor to the feel/stability of the putter
Interchangeable/Adjustable Hosel
Models with threaded hosels can be easily interchanged to go to a different length, lie, grip, or shaft.