A VITAL MESSAGE FOR GOLFERS
WHO WANT TO MAKE AN ADDITIONAL
4-8 MORE PUTTS

PER ROUND
A VITAL MESSAGE FOR GOLFERS
WHO WANT TO MAKE
4-8 MORE PUTTS

PER ROUND
"THIS COMPLETE REVOLUTION IN
PUTTING TECHNOLOGY SOLVES THE
BIGGEST PROBLEM IN PUTTING 
AND WILL HELP YOU SINK
4-8 MORE PUTTS A ROUND."
"THIS COMPLETE REVOLUTION IN 

PUTTING TECHNOLOGY SOLVES THE 

BIGGEST PROBLEM IN PUTTING 

AND WILL HELP YOU SINK 4-8 MORE
PUTTS A ROUND."
THE VALE PUTTER FROM BLOODLINE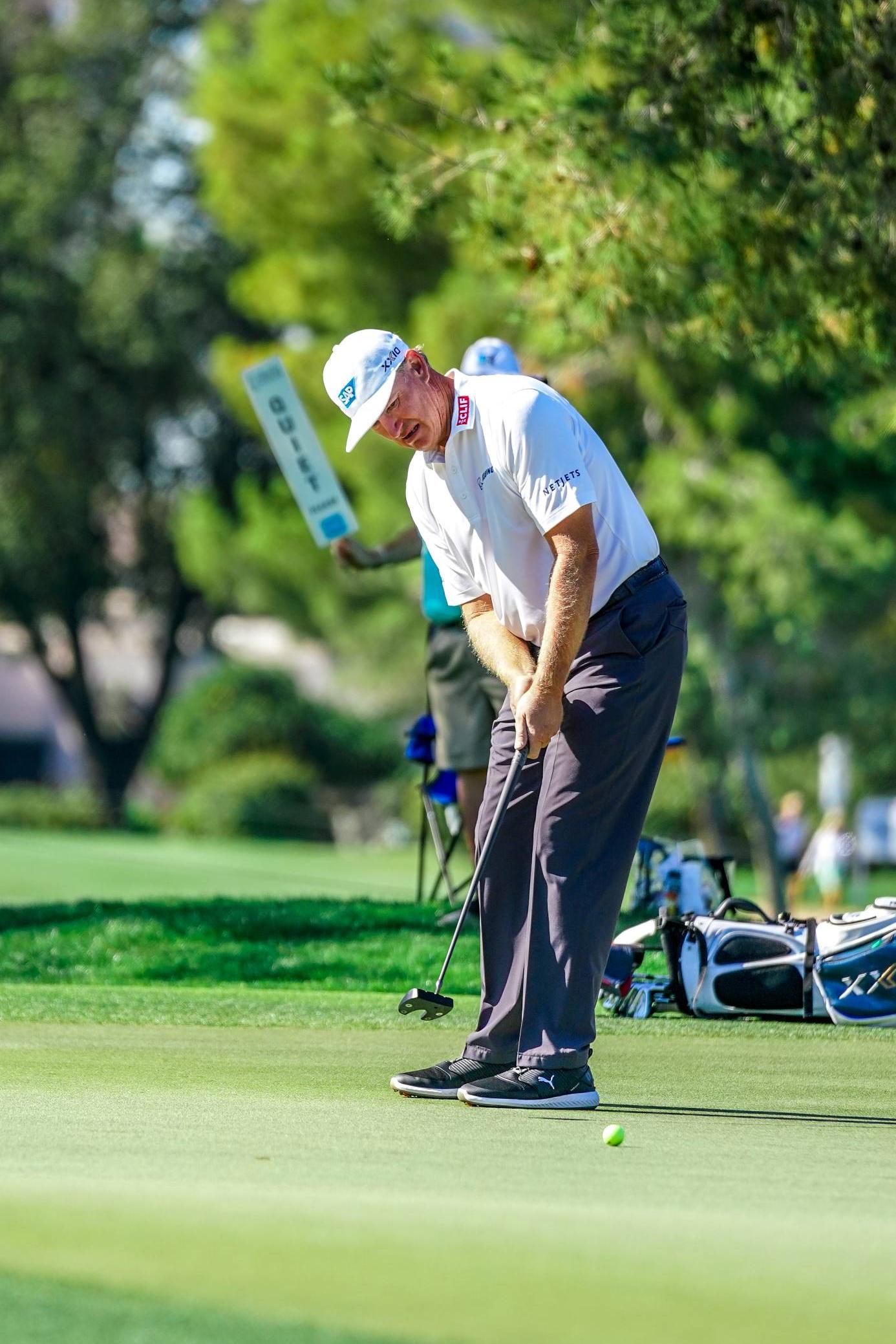 Trusted By Ernie Els and Other Touring Pros

5 Wins on Tour
Perfect alignment every time. Your putts will always start on the intended line.
Completely new patented technology - only available in Bloodline putters.
Conforms to 

Rules of Golf

for tournament play 
Premium materials and workmanship.

100-Day Satisfaction Guarantee

… return the putter for a full refund if it isn't a good fit for your game.
Select your putter length below and order yours today!

On this page, you need an open mind.
Why?
Because you're going to discover an all-new putter using radical technology.
This technology will change how golfers putt … just like Titanium changed drivers …
and perimeter weighting changed irons and every other club.
Yes … it's that big of a change.
So … if you want to sink more putts and have more fun on the golf course, take a few minutes right now to discover more about Bloodline Putters.
But remember … keep an open mind because you're going to read about something that will change putting as we know it … and transform your putting.
The Biggest Problem In Putting And How This Impacts Your Game
Imagine trying to aim a gun from the side instead of from right behind the gun. You would never hit anything. It would make no sense at all.
People would look at you like you're crazy...
But that's how we try to get aligned in putting.
We get behind the ball. We look at the hole. We read the green and choose our intended line.
But then we move to the side of the ball … and try to line up the putter face with the intended line.
It's something that's incredibly difficult to do consistently … even for touring professionals.
The result?
Even with a great stroke, we start the putt well away from our intended line.
And we miss a lot of putts.
In fact, if you get your alignment wrong by just 1.5 degrees, you will easily miss an 8-foot putt.  
This gets super-frustrating and super-annoying. 
Fortunately, there's an answer.
WHAT IF YOU COULD LINE UP YOUR PUTTER FACE FROM BEHIND THE PUTTER AND BALL?

The putter designers at Bloodline (you'll meet them in a minute) spent a long time thinking about this problem.

And they came up with an amazing solution
The Bloodline Putter
In your bag, you can see that this is a top-of-the-line putter.
It looks magnificent and it's made from top-grade materials.
Grip the putter and you'll notice it feels different.
Well … that's because it is.
The shaft is lighter than "old school" putters.
The head feels heavier. It is.
Why?
Place the putter on the green and you'll discover the head and the shaft stay in the putting position instead of falling over.  
From this position, you can change the alignment of the putter face based on your intended line.
When you're ready to hit the putt, simply stand next to the putter as usual. You will be perfectly lined up. You will start the putt on its intended line … every time.
Result?  
You'll hit solid putts … consistently … and you'll sink a lot more putts.
And just in case you're wondering … Bloodline Putters conform to the rules of golf as determined by the R&A and the USGA.
Before going into detail about Bloodline, let's look at the people behind this powerful advance in putter technology.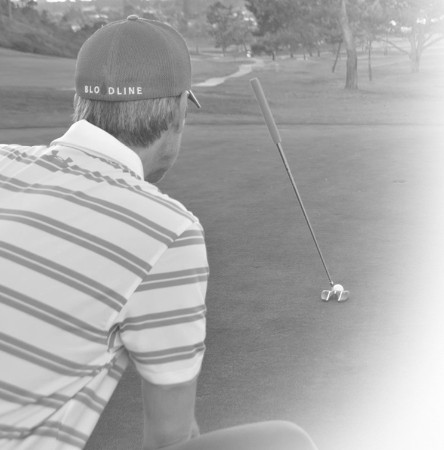 THE CREATORS OF THE BLOODLINE  PUTTER

These Founders Created Some of The Most Popular Advances in Golf Equipment

The Bloodline Vale Putter is the creation of Brad Adams and Larry Bischmann. They spent 3 years perfecting this game-changing putter technology.
Brad was involved with the original design of the Odyssey putter … one of the most successful putter designs in the history of golf equipment.
Larry created the Diamana line of shafts, used by professionals around the world to earn hundreds of millions of dollars.
Gary Adams, Brad's father, founded TaylorMade golf.
The team behind Bloodline truly understands golf equipment that performs at the highest level.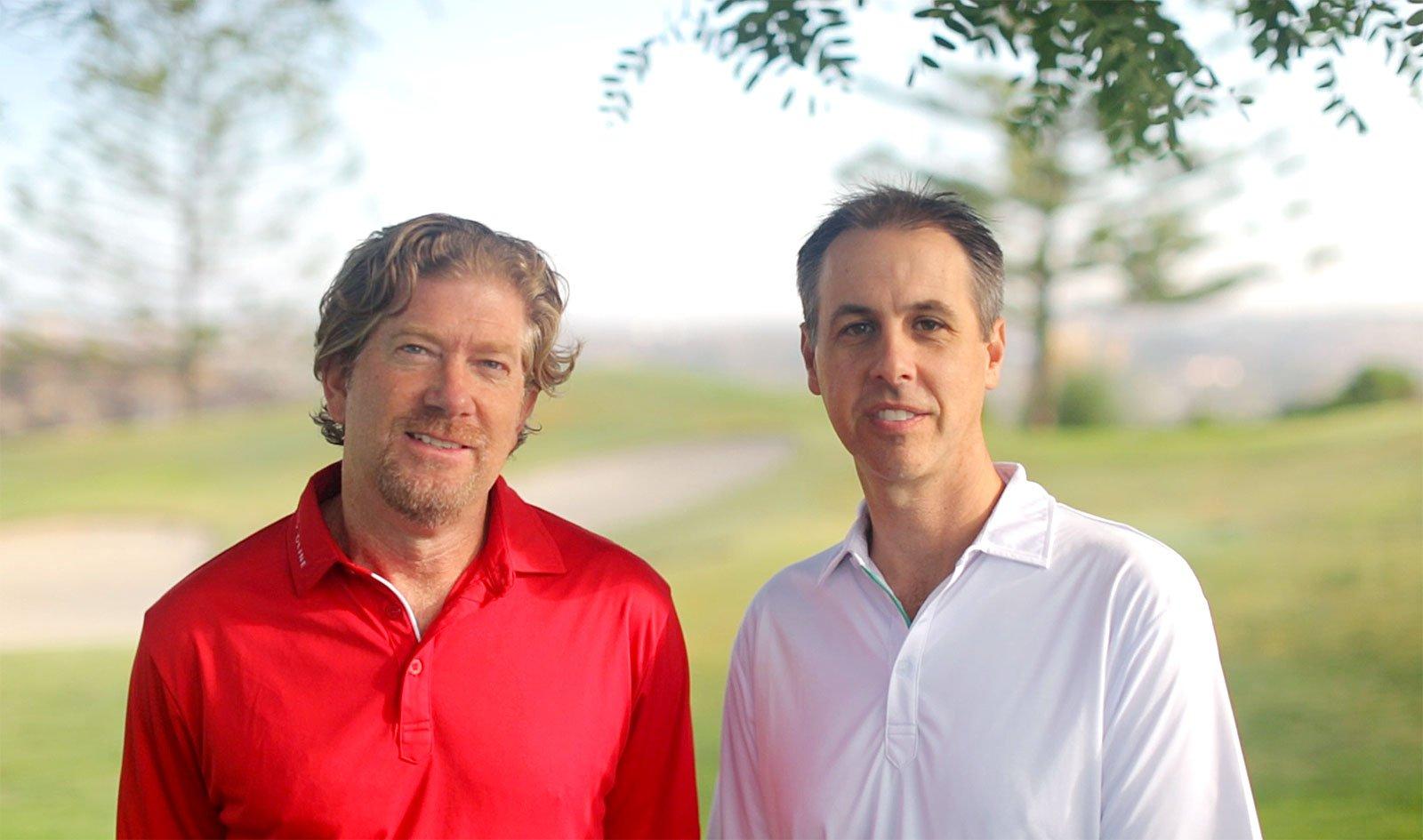 INTRODUCING THE BLOODLINE PUTTER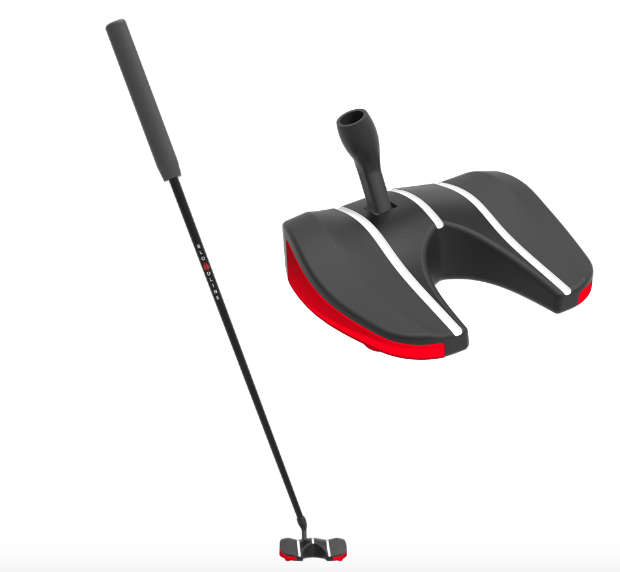 A totally radical approach to putting.
Created so you can sink a lot more putts!
Yes … The Bloodline VALE stands up by itself. Look directly down the line of the putt. Line up the putter face. Hit the putt.
If you have lines on your ball, you can align these with the lines on the crown of The Bloodline VALE.
Your putts will always start on the intended line.
Plus … because you're hitting the ball square with your putts, you get a true roll and this means consistent speed control … another key to great putting.
The Highest Quality Materials and Construction

The Bloodline VALE Features and Specifications
High-Performance Polymer (HPP) head shape and construction.
An ultra-light carbon fiber shaft and EVA grip.
Patented head, sole, and balance point design.
The Bloodline VALE stands by itself at address.
Progressive head shape frames the ball and target line from behind.
The face insert is tuned to optimize performance, feel, and roll.
Non-reflective finish means no interference from glare.
Head is only about 10-15% heavier than a "typical" putter.
The shaft and grip have been completely redesigned for maximum stability. 
Solid feel at impact helps with consistency and speed control.
Innovative sole design features touchpoints in the heel to stabilize the putter at the proper lie, loft, and face angle.  
Customizable length and lie.
Finally A New Approach To Shafts And Grips
When it comes to putter shafts, length seems to be the only specification that seems to matter.

In the Bloodline Vale, you get an ultralight shaft with superior feel and flex. The grip is incorporated directly into the shaft.
This pioneering construction means your Bloodline Vale has an extremely low balance point that provides more feel and release during the stroke.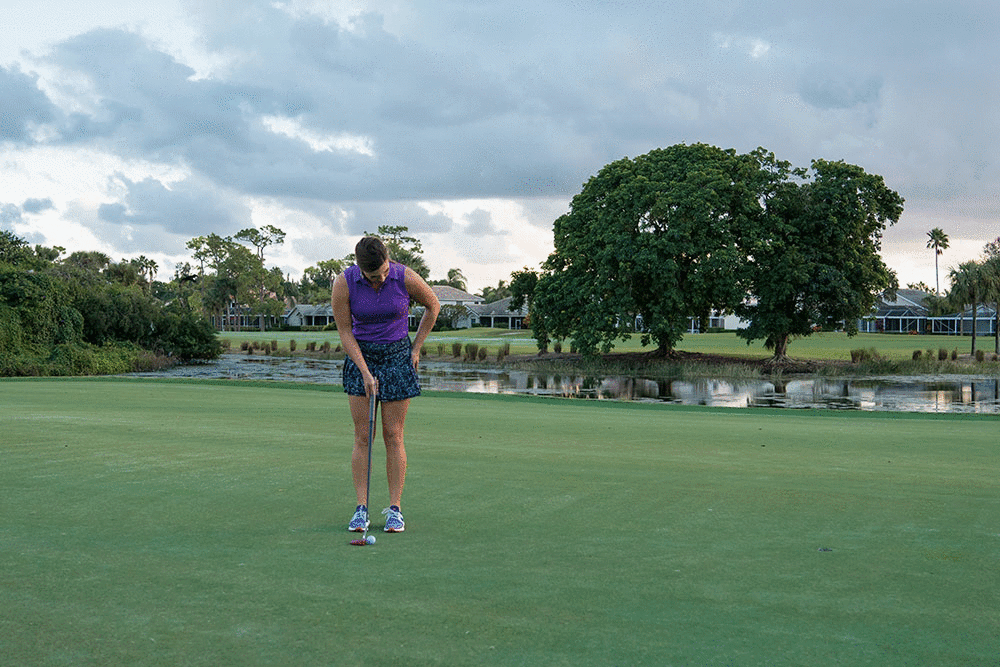 Do Like Using A Line On The Ball To Line Up Your Putts?
Or do you hate doing that?
Many golfers like to use a line on the ball to line up their putts. Many golfers don't use that method.
If you're in the "line" group, then you can literally line up the head of the Bloodline putter with the lines on your ball. You will be perfectly aligned before you hit the putt. 
But if you don't like to use a line on the ball, then the Bloodline is perfect. The lines on the crown of the Bloodline makes sure you're correctly lined up.
Result? Whatever your preference, you can be correctly aligned with the intended target every time. This will help you sink a lot more putts.   
Tour Performance Putter Head
The head on the Bloodline VALE is made of High Performance Polymer (HPP). The unique sole design enables the putter to stand alone on the green for rear alignment. 
The goal is to provide the feel, roll, and consistency demanded by the best players in the world.
Conforms To The Rules of Golf
Based on original Equipment Submissions and 2019 rule changes, all Bloodline putters, including The Bloodline Vale, fully conform to the Rules of Golf.
What You Can Expect from Your Bloodline Vale Putter … Start Every Putt On Your Intended Line … And Much More …
Professional Golfers Including Ernie Els have 4 victories on tour with  Bloodline Putters. They're enjoying these benefits.
What You Can Expect from Your Bloodline Vale Putter...
Start Every Putt On Your Intended Line... And Much More...
Perfect Alignment Every Time
Immediately improve your accuracy by aligning the putter face from behind.
Consistent Set-Up 
Starting with your hands in the correct position every time will help you stroke the ball more consistently.
More Confidence … A Lot More Confidence …
Your confidence will skyrocket because you know you're lined up correctly every time. You can then focus on the correct speed.
Lining Up From Behind – Get Aligned Correctly Every Time So You Sink More Putts …
Very few golfers actually realize their alignment is off, even on relatively short/straight putts. This often results in subconscious manipulation of the putter face during the stroke. When aligning from behind, it's second nature to see where your Bloodline Vale is aimed.
The Highest Quality Materials
The Bloodline VALE is made from the highest quality materials. This provides confidence plus the excellent feel required from the world's top putters.
20 Reasons To Put The Bloodline Vale In Your Bag
Sink an additional 4-8 putts a round

… imagine how that would improve your game. 

Start every putt along the intended line

… a key for consistent putting.

Gain huge confidence

because you know you're lined up correctly every time you putt.

Solves the biggest problem in putting

… aligning the putter face correctly.

Trusted by many of the world's top touring professionals

including Ernie Els. Also used on all the major tours. Bloodline does not pay professionals to use these putters.

The highest level materials

available to give you a perfect roll and perfect feel every time.

Perfect speed every time

… thanks to the design, alignment, and materials.

A full range of fitting options

… loft and lie … right-handed and (coming soon) left-handed. Custom options available.

Take advantage of a massive shift in technology

… just like Titanium transformed drivers and perimeter-weighting transformed forgiveness in irons.

Created by the world's most successful golf club designers

… who created iconic clubs like the Odyssey Putters, Diamana Shafts… and iconic brands like Taylor Made.

Awesome feel at impact

… for consistent speed control and total confidence.
Conforms to

The Rules of Golf

… as determined by the R&A and USGA.

Super-stable through impact

for additional accuracy.

Innovative grip design

delivers excellent feel and control.

Straight, accurate putts every time

… thanks to this game-changing technology.

Great sound at impact

 provides feedback and confidence.

Ultra-forgiving

face and groove technology.

For every type of golfer

… from total beginner to PGA touring professional … club golfers … everyone!

Make a TON of short putts

… important for your score and your sanity.

100% Satisfaction Guaranteed 

… if the Bloodline Vale isn't for you, simply return the putter for a full refund.
How to Sink More Putts With The Bloodline Vale
When you first get your putter, you'll notice it feels different … with much more weight in the head of the putter. 
Take the putter to the practice green. In about 30 minutes, you'll get used to the new feel. Try your new way of getting lined up. It takes a little bit of experimentation at first.
When you're out on the course, read your putt and get your line.
Align the face of your Bloodline Putter with your intended line. Do this from behind the putter. Really!
Take your stance and grip.
You'll notice you're perfectly aligned.
Hit the putt with your intended speed.
Your putt will ALWAYS start along the intended line. 
"They Laughed When I Started Using This Putter … But Then I Started Making Putts from Everywhere …"
At first, many golfers are hesitant about The Bloodline Vale. After all, it's a totally different way of lining up putts. 
And, at first, your regular golfing buddies might send a few "comments" your way.
You might feel slightly peeved. Maybe you won't.
Either way, you'll be one laughing once you start sinking all those putts.
And you'll be laughing even more when they have to dig into their wallets at the end of every round to hand over the cash.    
Professional and Amateur Golfers Love Their
Bloodline Putters
(Actual comments from verified buyers)
CONFIDENT
"My golf score improved with this putter. After adjusting my alignment, I feel confident putting. I can concentrate only on my stroke. This way, I will be able to improve my score. Now I can't go back to my old putter." KAZUO T. 
LIKE THE PUTTER A LOT
"The novel concept behind this putter appears to work. It becomes apparent very quickly that a significant number of my putts in any given round are simply lined up incorrectly. The ability to recognize that before putting is fantastic. Furthermore, the self-standing feature eliminates most of one's concern about hand position and set up. If you simply take your grip without moving the putter then you know your set up is perfect. Then all you have to really think about is the stroke. To be sure, this means you need to have your practice strokes completed before you set up the club. This has required some meaningful adjustment in routine for me. The weight and the feel of the putter are outstanding. All in all I like the putter a lot, and will continue to work on my routine." AARON C.
EASY TO MAKE PUTTS
"Being a PGA Professional, I can only say that everyone that I have shown my Bloodline putter to has been amazed at how easy it is to make putts, or at least burn the edge with the vast majority of putts. The #1 comment I hear is "It's like cheating, it can't be legal." ... Loving my Bloodline! JOHN P.
AWESOME
"The search is over. I've found the perfect putter. Puts great roll on the ball. As solid feel as any Scotty I've ever used. Ability to align your putt is awesome. I really like the shaft size with the grip. I don't see how it wouldn't improve anyone's putting. Great Putter!" OWEN H.
POSITIVELY SURPRISED
"I knew what I was getting for alignment but I was positively surprised by the feel." JEREMY K.
AMAZING … SEXY …
"Bloodline is amazing in every way. This putter takes innovation to a new level, while keeping the looks and feel as sexy as possible. It's soft, rolls true, and now I never have to question my line again. This putter is an absolute game changer! I'm Proud to be a part of the bloodline team!" KYLE M.
FIRST EAGLE
"Can't tell you how happy I am with your Product! I didn't believe how far off I was aligned on some putts when I stepped back to see. Made my first eagle with my Bloodline, about a 25' left-to-right slider. Very pleased with it." SAM V.
TRANSFORMED
"Bloodline has transformed me from a poor putter to, dare I say, a pretty darn good putter. Knowing I've got the putt lined up has made 15 footers feel makeable now and I'm not worried about going 4 feet past. Confident strokes = a lot more made putts. Side bonus - putter stands up on the fairway also so your grip will stay dry while chipping!" KENNEY H.
PUTTING IMPROVED DRAMATICALLY
"The most important thing to know is that my putting has improved dramatically with the Bloodline. My handicap bounced around from a 9-12 over the last couple of years. Last Friday, I had 30 putts with three lip-outs and Saturday I only had 26 putts. Shot 79 both days. It has really made a difference on my alignment, so much so that I rarely need to stand behind the putter after using it for the last couple months. If I feel my alignment is getting out of whack, I take a look before I putt and after a few checks I seem to be fixed again. Of course alignment only works if the other parts of putting are in sync. Your read, distance and stroke. But taking 25% of the equation out of play helps." GARY J.
WON THE CHAMPIONSHIP
"Great putter. Made more putts from within 12 feet than I have in a while. Just won the Old Collier Club Championship with it in Naples, FL. Highly recommend!" MARY P.
FIVE BIRDIES
"Put this putter in the bag a couple weeks ago. First round I had 5 birdies and a ton of saves. I just line it up, adjust if needed, and stroke it down the line. No practice strokes needed, Bloodline putter is that good! I should mention I had to adjust my putter face every time when I walked behind it to check it. For some time I think I was aiming down my intended line but set up right of it every time. Slowly correcting it with the Bloodline the more I play and practice with it. Great training aid as well! JIM W.
MADE MORE PUTTS
"This putter has given me new confidence every time I line it up. I know all I need to do is get the proper speed and the ball will drop in the cup. I have made more putts now and the misses have been so close that I know it should have gone in. Thanks Bloodline!"
VERY EASY TO SEE THE LINE CORRECTLY
"Love the putter for my students. One of the hardest things for most players is to aim the putter face. This makes that very easy. So then players start to be able to set up to the putter and finding the best way to see the line correctly." MIKE M.
MONEY INSIDE 6 FEET
"I have been using my bloodline putter for 6 months now. This putter is money inside 6 feet. To be able to stand behind and line it up is awesome. Others players made fun of me at first but not anymore …. $$$$. Thank you team Bloodline!" DAVE M.
IMMEDIATE FEEDBACK … SAVE AT LEAST 3 STROKES PER ROUND …
"Recently purchased the Bloodline. Very happy with purchase. If I were a rep, I could have sold a bunch of them at recent tournaments. First response everyone has is, "Wow, how does that stand up on its own?" Followed quickly by "is it legal?" The biggest benefit is that it gives you immediate feedback on aiming errors with normal setup. Placing club where you think you are aiming and then seeing actual alignment is eye opening. For Pro players that practice every day and have near perfect alignment, feel is more important, but for the rest of us, the alignment benefit is most important. The second benefit is that once you are confident with your putter alignment, you only need to think about speed of putt. Much more focused on one thought than two, I'm in a Member-Guest tourney next week and I plan to use it as intended for any putt outside of 2 feet. I figure it will help me save at least 3 strokes per round and distract competition. Overall, I'm thrilled with my Bloodline, regardless of cost. Maybe I shouldn't be so enthusiastic - don't want my competition using one!" CLAUDE H.
GREAT FEEL AND ROLL
"Besides being able to take a look from behind I find that function even more helpful even when not taking advantage of that. For example, just standing over the ball it just gets you to set up in the same position time and time again. Hands not too far forward or leaning back. Hands not too high or low. That alone has helped my alignment the most. Not to mention there's also great feel and roll right off the face. Even when you're not using the 'stand up' function it's a great all around putter."  
Want One of the Hottest Putters Around?
Take these steps now:
Click below to select your Bloodline Vale putter.
Complete the checkout (takes about 60 seconds).
Enjoy your new putter and sink an extra 4 to 8 shots a round.
★ ★ ★ ★ ★
"I feel like I have found the Tesla of putters.  Straight up BETTER technology."
- Bruce O.
★ ★ ★ ★ ★
"This putter is the bomb and I've never made so many... bombs."
- BigBen
FREQUENTLY ASKED QUESTIONS

1. Will I make more putts?

Bloodline's patented technology will help you more accurately align to your target line on every putt.  This will enable you to start more putts on line and ultimately to MAKE MORE PUTTS. 

2. Is Bloodline legal to use in competition?

Yes, absolutely! Bloodline putters have already been used to WIN 5 tournaments run by the PGA TOUR and our putters "Conform to the Rules of Golf" that is issued by the USGA and the R&A. 

3. Will my putter stand up in all conditions?

No.   Bloodline putters are designed to stand up in most conditions with minimal wind.  There are a variety of factors that impact the stability of the putter that include the slope of the green at the address and the firmness of the green.  However, using the Bloodline putter regularly will help you calibrate your eyes so you are more accurately aligned even when you choose not to let go of the putter. 
The Ultimate 100% Satisfaction Guarantee

The Bloodline VALE Putter must help you sink 4-8 extra putts a round. It must help you with your face alignment. It must help you feel totally confident over every putt.
You must feel totally confident and comfortable with The Bloodline Vale putter.
If you're not totally delighted for any reason … or no reason … we'll refund your money.
To receive this refund, simply return the putter within 30 100 days of purchase … even if you have used the putter. We want you to enjoy and use this putter. If it's not a good fit for your game, we'll refund your money.
Now You Have a Simple Decision to Make
You can struggle with your putting … never really being the putter you can be … OR …
You can get aligned perfectly every time and make a TON of putts by adding the Bloodline VALE to your bag.
We know you'll make the right decision.